Buranakata
---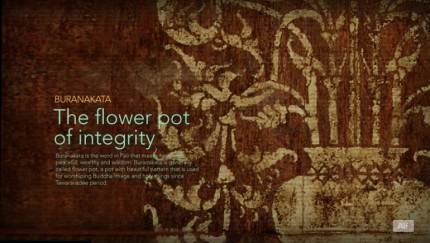 Buranakata
Buranakata is the word in Pali that means happiness, peaceful, wealthy and wisdom. Buranakata is generally called flower pot, a pot with beautiful pattern that is used for worshiping Buddha Image and holy things since Tawaravadee period. Buranakata is a divergent cylindrical container made of clay with strip on top, narrowed waist and flat bottom. The diameter is about 3 inches and 7 inches height. Formed by using round board and painted in flowery pattern.
Buranakata originated in the south of India, existed since  8th Buddhist era in Amaravadee period. From normal pot, Buranakata became one of the eight auspicious and generally seen in Lanka art. Demon and Naga people are the pattern which often seen. The plot is filled with water is a symbol of wealthy, rich of food. Flowers put in the pot represents property and retainer.
Painting and sculpture of Buranakata can be seen at historical sites in Sri Lanka. In Thailand, Buranakata pattern can be found in the temple's wall, as shown in Buddha image hall in Pongyangkok Temple and Namtam Buddha image hall in Pra That Lampang Luang temple. Besides, they can be found on the doors at the entrance to houses and hotels.
Everyone is like a flower, beautiful and valuable in itself. Every flower gives sweet smell and when it is together in the pot, the atmosphere of love, unity and friendship will flow into the air. The combination of sweetness and diversity cannot be predictable.
References
---
THAI INTERACTIVE STUDIO COMPANY LIMITED
E-mail
:
info(a)thaiis.co.th
Web
: thaiis.com
Cell
:
+66 8 5040 0555
---
Post Address
THAI INTERACTIVE STUDIO COMPANY LIMITED
239 CMU Art Museum, Nimmanhaeminda Road, Suthep, Muang, Chiang Mai
50200
THAILAND