Pee Mod – Pee Meng
---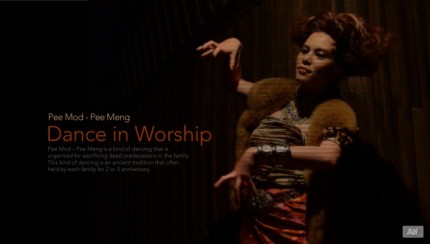 Pee Mod – Pee Meng is a kind of dancing that is organized for sacrificing dead predecessors in the family. This kind of dancing is an ancient tradition that often held by each family for 2 or 3 anniversary.
Pee Mod – Pee Meng, from the saying of old people, Pee Mod is like the ant that watches over the houses. Therefore, when a family holds Pee Mod ceremony, ant's nest would be on sale by neighbor. The houses nearby would buy and keep it in their house. Pee Mod – Pee Meng traditional is generally seen in the suburb in Northern Thailand especially in Chiangmai, Lamphum, Lampang but hardly seen in other provinces.
Pee Meng is believed that it is a tradition influenced from Mon because the way of dressed when communicate with spirit looks like Mon people. Mon people are called "Meng" by people in the north. Therefore, the real meaning of Pee Mod – Pee Meng is that the dancing tribute or a votive offering to the ancestral spirits. It is believed that the spirits would be together at ghost hall. So, this tradition is called Pee Mod-Pee Meng. For Pee Mod ceremony, the host would build the tent roof inside the court yard and prepare the offering foods on the shelf which are pig's head, boiled chicken, liqueur, dessert, glutinous rice with coconut, banana cane, popped rice, flower, incense and candle. There is also a clothesline or a cloth tray for offering to the medium.
For the Pee Meng dancing, the white silk hanging down and lay down on the floor at the center of the marquee so that the dancers can hang on.
Pee Mod-Pee Meng dancing ceremony is not only the way to present gratitude to the ancestors who have passed away but it also create the unity and familiarity of the people in the village. Although this ceremony is hardly seen, it is one of the valuable traditions that must be conserved.
References
---
THAI INTERACTIVE STUDIO COMPANY LIMITED
E-mail
:
info(a)thaiis.co.th
Web
: thaiis.com
Cell
:
+66 8 5040 0555
---
Post Address
THAI INTERACTIVE STUDIO COMPANY LIMITED
239 CMU Art Museum, Nimmanhaeminda Road, Suthep, Muang, Chiang Mai
50200
THAILAND