Rice and Rituals
---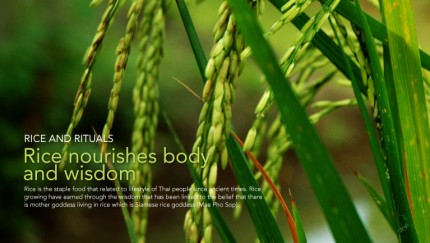 Rice is the staple food that related to lifestyle of Thai people since ancient times. Rice growing have earned through the wisdom that has been linked to the belief that there is mother goddess living in rice which is Siamese rice goddess (Mae Pho Sop). This belief has led to the customs and rituals associated with farming and way of life of farmers which is based on faith and respect for nature. If the rice is treated with great care, Richness would come to family and community. Therefore, agriculture not only plant the seed, but also keeping on traditions and beliefs from the past until present.
Since agriculture is a profession of Thai society, people is feed by rice. There are many rituals related to rice in Thailand but with the same aim that is to fertility and to worship holy thing that protects all crop. Therefore, all rituals reflect the faith and wisdom of local people in an attempt to communicate with the supernatural.
The rituals related to rice would connect to Mae Pho Sop which believe to be the God who take good care of various cereal crops. Mae Pho Sop is not different from human who needs love and care.The farmers have to take good care with respect and gratitude. Based on the belief that Mae Pho Sop is nervous, therefore we must keep humbly. Lound noise would chase away Mae Pho Sop and rice fields would become barren. So, when contact with the mother goddess of grain, we should be polite.
In addition to the worship of mother goddess of grain, there are many ceremonies held during the rice cultivation. The most important period will be in the post-harvest and before the new season. Four steps of the ceremony are as following,
The purpose of the ritual before planting is to worship holy thing or ancestor to protect from the dangers to life and property, to have confidence in life such as Khun Dam Ghost Ceremony, cat parade ceremonial, Phraya Khun Kark sermon, rocket festival.
Planting ceremony held with the propose to sacrifice a notification about rice cultivation to the gods or sacred so that the cultivation of rice would go well such as the first plowing ceremony, transplant rice seedlings, Pee Ta Hak ceremony.
Ritual for maintenance on the propose that rice would be flourish, safety from animals, insects, worms. These rituals held during the crop until harvest such as Mae Pho Sop worship ceremony, chasing rats, birds and other insects ceremony by using holy water or talisman, pray with sand by or fetish.
Rituals to the harvest – celebrated production. To get more productivity and to express gratitude to rice and what is involved. This type of ritual will be held during the harvest season.
Rice is the staple food in Thailand but now divinity of rice is decreased due to environmental changes and the new techniques to help accommodate the farm. As a result, rituals, beliefs gradually faded. Although rice rituals was about to be volatile, but all of us who are consumers can express gratitude to Mae Pho Sop by recognizing the value of rice and not to waste grain. Moreover, promote agriculture as a contribution to the development of Thai society.
---
THAI INTERACTIVE STUDIO COMPANY LIMITED
E-mail
:
info(a)thaiis.co.th
Web
: thaiis.com
Cell
:
+66 8 5040 0555
---
Post Address
THAI INTERACTIVE STUDIO COMPANY LIMITED
239 CMU Art Museum, Nimmanhaeminda Road, Suthep, Muang, Chiang Mai
50200
THAILAND