Thai Carving
---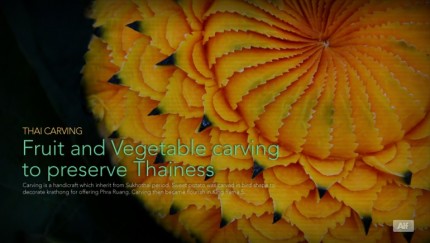 Carving is a handicraft which inherit from Sukhothai period. Sweet potato was carved in bird shape to decorate krathong for offering Phra Ruang. Carving then became flourish in King Rama 5. Although fruits and vegetable carving is not often seen nowadays, normal dishes would turn to be more colorful when filled with curved fruits and vegetable.
Fruits and vegetable carving is one of handicraft that Thai ladies in the past had to practice, especially the ladies in the palace. Carving is an artwork that present effort and neatness of each lady. Carving is not just the way to make fruits and vegetable easy to eat, the exquisite beauty is also needed. Veggie will be chopped and decorated as pieces whereas fruits will be peeled but stay in their shape. Fruits that always be carved are taro, sweet potato, pumpkin and papaya.
Fruits and vegetable carving is a precious work and give many advantages. For examples, carving would add more beauty and more mount-watering to fruits and vegetable. These carving can be used in special occasions or festivals such as wedding ceremony, birthday party. Moreover, carving can be done for earn a living by having carver as a career. Besides, carving can be a tool to maintain the Thai identity.
Although nowadays not so many people is interested in carving, there is still people who learn to carve so as to be a carver in oversea. Carving is also one of the subjects in domestic science. So, such handicraft is still with Thai society.
References
http://www.suandusitcuisine.com/food4/central/package_01.php
http://blog.school.net.th/blogs/nuvavaza.php/2009/02/12/-125
---
THAI INTERACTIVE STUDIO COMPANY LIMITED
E-mail
:
info(a)thaiis.co.th
Web
: thaiis.com
Cell
:
+66 8 5040 0555
---
Post Address
THAI INTERACTIVE STUDIO COMPANY LIMITED
239 CMU Art Museum, Nimmanhaeminda Road, Suthep, Muang, Chiang Mai
50200
THAILAND