Thai Herbal Compress
---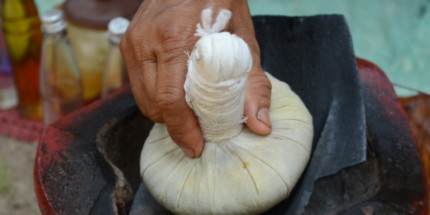 Herbal Compress is a Thai traditional therapy which can be practiced with Thai massage by apply herbal compress while or after massaging. Such herbal compress is formed by the combination of herbs with essential oils. When heated, they would emit a sweet odor. These kind of herbs go through the cleaning process and then cut or chopped into the desired size. After that, they are put together in calico and taken through the heat process by steaming or put into microwave in order that the herbs would melt into remedy and adsorb into the body.
General Feature of Herbal Compress
Herbal Compress is generally seen in the shape of circle that fresh and dry herbal are inside. Both side of the calico are tied tightly.
Herbal Compress in the past is usually mixed with rice whiskey because rice whiskey is like a drug carrier which helps the herbs absorbed into the skin more easily. The first step of steaming takes about 10-15 minutes. However, do not steam with rice whiskey in microwave.
There are two types of Herbal Compress which are fresh Herbal Compress and dry Herbal Compress.
Fresh Herbal Compress
Advantages: Fresh Herbal contains water. So, there is no need to sprinkle water before use. Do not dry out. Steam sterilization is no need.
Limitations: Fresh Herbal must be used immediately. It can be kept in a shot time in the normal temperature. Must be kept in the refrigerator or spacial container.
Dry Herbal Compress
Advantages: Dry Herbal can be kept for a long time. More Herbs can be added because some herbs must be found from other locations.
Properties of fresh and dry Herbal Compress
The properties of herbs in Herbal Compress are relieve sprain and bruised. Tendons of the muscles would relax, when combined with hot herbal compress. Fresh and dry herb contains essential oil which is the active substance. Moreover, more herbs can be added such as onions, fresh ginger and morning glory.
Herbal Compress is a Thai wisdom since an ancient time which the various local herbs are utilized in muscle relaxant, relieve aches, improves blood circulation, body refreshen, relieve stress. It could say that Herbal Compress is the natural treatment with valuable wisdom.
References
http://ittm.dtam.moph.go.th/product_champion/herb5.htm
http://www.tistr.or.th/spa/herb/index.html
---
THAI INTERACTIVE STUDIO COMPANY LIMITED
E-mail
:
info(a)thaiis.co.th
Web
: thaiis.com
Cell
:
+66 8 5040 0555
---
Post Address
THAI INTERACTIVE STUDIO COMPANY LIMITED
239 CMU Art Museum, Nimmanhaeminda Road, Suthep, Muang, Chiang Mai
50200
THAILAND