The Great Drum : Lanna Thai
---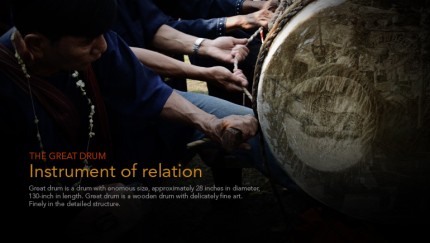 Great drum is a drum with enormous size, approximately 28 inches in diameter, 130-inch in length. Great drum is a wooden drum with delicately fine art. Finely in the detailed structure. Its feature is one side stretched leather drum with a wire to tune the volume. Great drum is also known as devil prohibition because the belief that sound of the drum can overcome and prevent the devils from destroying the religious ceremony since great drum is beat in many religion ceremonies.
Great drum was first built for about 80 years by craftsman named Nhan Luang at Ban Tung Tom, Tumbon Maekha, San Pa Tong district in Chiang Mai province. That time great drum was created with 20 inches in diameter and 140 inches in length. Built for offering procession and beating a drum racing. Since then great drum became popular among the "Thaiyong" who live in Pasang District, Baan Hong District in Lamphun and Chom Thong in Chiang Mai Province that developed the sound of great drums. Later great drum was designed and developed to become popular in Lanna.
Beating great drums in resonated voice, apart from the enormous and various elements of the drum, power of the drummer, position and the rhythm of beating plus the force controlling during beating the drum. The materials used in beating must be coiled with fabric in cone or spiral shape. The spiral and the shape part would beat together at sticky rice mixed with ashes area.
Nowadays, great drum is often seen in a parade organized by the temple, January to June each year in religious ceremonies. The parade also has a large gong and drums. There is also a parade of other temples joining the procession. In the afternoon, when the parade ends, great drum beating between temples will begin.
There are no rules in drum beating competition. The side that beat the great drum louder than the opponent is the winner. The drums are representative of the people of each village. The main goal of the people attending the event is not the money, but they want the temples to be more well known.
Great drum competition encourages the relationship between the temple and the community because cooperation among community is needed from building, the use and storage of drums that is the treasure of the temple and the village. Moreover, great drum is the instrument that represent a unique culture and Lanna heritage.
---
THAI INTERACTIVE STUDIO COMPANY LIMITED
E-mail
:
info(a)thaiis.co.th
Web
: thaiis.com
Cell
:
+66 8 5040 0555
---
Post Address
THAI INTERACTIVE STUDIO COMPANY LIMITED
239 CMU Art Museum, Nimmanhaeminda Road, Suthep, Muang, Chiang Mai
50200
THAILAND