Wild Himalayan Cherry
---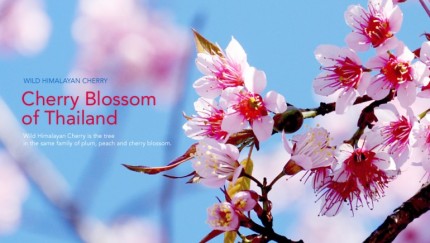 Wild Himalayan Cherry is the tree in the same family of plum, peach and cherry blossom. Therefore, it is called cherry blossom of Thailand which can generally be found on the high mountain such as Khun Tan in Nan, Mae Sa Long in Chiangrai, Veinghang in Chiangmai.
Wild Himalayan Cherry flower will bloom in February.  In the past this kind of tree breed by nature and be found in Chinese, Japanese, and Taiwan. They are found in the south of China, Japan and Taiwan. Nowadays, they exist in the forest at 500-1,500 meters high from the sea level.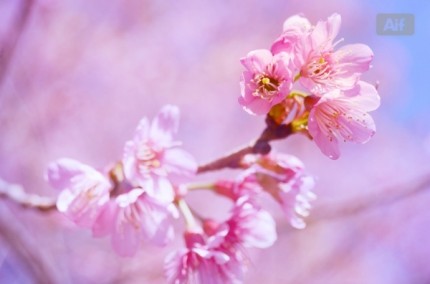 The feature of Wild Himalayan Cherry is a small deciduous tree which is 10-15 meters height and bear white, pink and red on December – February.
Wild Himalayan Cherry has grown on the riverhead area for over 10 years and proved that they can grow well in mobile plantation or in the high area.
The advantage of Wild Himalayan Cherry is that they can be ornamental plants and their sour fruits can also be eaten.
Although, Wild Himalayan Cherry is compared to cherry blossom, the difference between Wild Himalayan Cherry and Cherry Blossom is that the period of fruits bearing. Cherry Blossom would bear fruits in the summer on March – April whereas Wild Himalayan Cherry flowers would bloom in the wintertime in December to February. However, both trees are in the same family which is Rosaceae and there is also an assumption that their ancestor is from the south of China.
To experience the cold atmosphere that surrounded by colorful blooming Wild Himalayan Cherry with wonderful scenery, High Mountain in the north is one of the great places which can offer impressiveness to visitors.
Wild Himalayan Cherry on Khun Mae Ya and Khun Chang Kian in Mae Hong Sorn are waiting for the tourists to visit in the winter.
References
http://th.wikipedia.org/wiki/นางพญาเสือโคร่ง
http://www.paiduaykan.com/76_province/north/chiangmai/khunchangkain.html
---
THAI INTERACTIVE STUDIO COMPANY LIMITED
E-mail
:
info(a)thaiis.co.th
Web
: thaiis.com
Cell
:
+66 8 5040 0555
---
Post Address
THAI INTERACTIVE STUDIO COMPANY LIMITED
239 CMU Art Museum, Nimmanhaeminda Road, Suthep, Muang, Chiang Mai
50200
THAILAND